Fareham Arts Festival is a new arts festival for the Hampshire borough of Fareham that I, and the arts not for profit I started, Live Art Local CIC, created and organised to deliver a varied and fully inclusive arts event.
Our inaugural year is 2015 and if all goes well, it is hoped it will become a biannual event.  Taking place over multiple venues around the borough and including a sculpture garden, exhibitions, performance, music, community workshops, yarn-bombing, and a short film competition this is the first of its kind within the borough.
The aim is to  give artists and creatives a chance to have their work seen and retain creative control of their work and to connect all people with the arts.  To make them accessible to everyone and to halt the notion that the arts are for some elite and not for every single person.  To this aim we are using both traditional venues, and non-traditional spaces: cafes, shops, etc……
This is a not-for-profit event and we are working on it on a voluntary basis.  We are working on an extremely tight budget and have teamed up with various organisations and businesses to deliver this arts festival.  We are constantly fundraising.
To find out more about the arts festival please visit:
Last year was our first large art event, Fareham Art Trail.  Sadly the site is no longer active as we decided to incorporate the trail into the festival.  You can find out more about it below:
Fareham Art Trail was the first ever large art event to take place in Fareham.  This was the first large art event that I have curated and was born out of a wish to bring gallery quality art to the local community; making it accessible for all to access art and to dispel perception among the general public that art is only one type of art.  It was also to give artists from the area a chance to have their work seen closer to home (I have been in exhibitions around the UK but never near to where I live and I know that I am not the only one).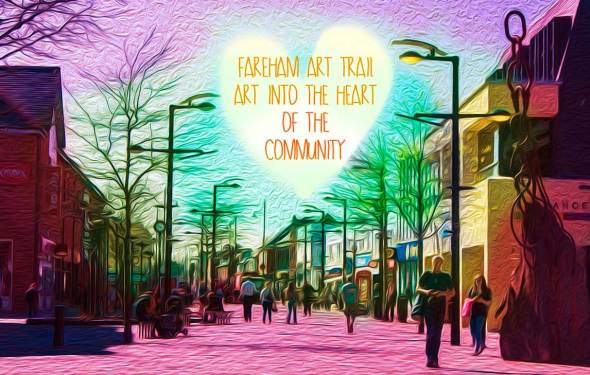 Fareham Art Trail took place over 7 days and had a launch that was attended by local councillors (I had managed to get a council grant); artists, media, the mayor and mayoress, and was officially opened by MP Mark Hoban.
The event comprised of curated exhibitions (by myself aided by several selectors, comprising artists and business owners); community arts; disability arts; non selection exhibitions and a children's exhibition.  We even had a sculpture garden.


Venues for the event ranged from local businesses; to a theatre; the performance podium; to a museum and award winning gardens.  Artists featured in the exhibitions included not only local artists but also those of national importance.  This included: Professor David Hamilton (SFRCA); Ginny Topp; Danny Mooney (winner Jerwood Drawing Prize); Jon Adams (SFRA); Sam Pierpoint; Al Johnson; Barrie Davies; Chris Wood; Chris May, Hilary Manuhwa and many more.
We were lucky enough to be able to bring numerous different artistic styles to the public of Fareham.  As well as sculpture there was painting, photography, mixed media, textiles, sculptural installations, ceramic installations, illustration, digital art, video installations, sound installation, drawing, mosaic, and screenprinting.
I also organised a magnetic art event during the week where artists submitted original works which I then shrunk down and printed onto magnetic substrate; along with their details and QR codes linking to a page with their statement.  These were then positioned around the wrought iron on the podium and were able to be taken home for free by visitors to Fareham.
On Bank Holiday Monday I organised an art swap.  Artists and members of the public were invited to bring along their work (visual arts, applied arts, and poetry) and to swap  it for somebody else's.  In return they were asked to leave a positive note about the piece they had chosen.  If there was only one piece left, those wishing to swap would have to take it but they were free to wait for another piece to swap and they could continue to swap for as long as they wanted.  The aim was to be left with nothing at the end of the session but a list of positive messages about people's work which we would then turn into a piece of textual art.
Sadly heavy storms meant that we had to end the swap very early.
I also organised a LIVE art event, where local street artist Richard Lansley created a piece in the open air while audiences watched him.  This proved very popular.
The event proved such a success and it is leading on to new projects and a change in how the local MP perceives art.  We are now planning a much larger arts event for next year, encompassing dramatic arts, spoken word, music and dance also.
If you would like to find out more about Fareham Art Trail please visit its website farehamarttrail.com